Part Three: The History of Newfane
To A Better Life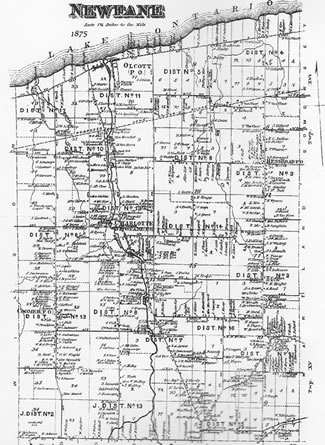 What we know today as the community of Newfane began as many different properties owned by pioneers. None set out to create a town, but to claim ownership of their own land along Eighteen Mile Creek and nearby Keg Creek. This region was far from any populated areas beyond the burgeoning nearby settlement of Kempville (Olcott). For this reason, the land was not suitable for new families who preferred the safety of being closer to established civilization, such as the villages of Buffalo and Niagara. Instead, the area was founded by businessmen hoping to find their fortunes. A few of the earliest property owners were William Wisner (1810), Levi Ellis (1811) and Zebulon Coates (1811). William arrived with his young brother, James, only 12-14 years old at the time, and the two quickly established a home and arranged for William's wife and children to join them soon after. Francis Albright, from Genesee County, arrived in 1809 to view the land he had purchased, 200 acres west of Keg Creek. He sent his 24 year-old son, Jacob to claim it in 1810. Jacob traveled with his wife and young child and a small team of ox, one horse, and a hired man to help with the land. After weeks of travel, they arrived and were greeted warmly by their new neighbors, The Wisner family. Three others recorded to have settled early on included Nathaniel Swarthout and Zebulon Coates and the Mudgett family (no dates recorded).
The most popular form of business became milling, which took advantage of the amazing power captured from both creeks. Between 1810 and 1811 the first mills arrived: a saw mill and gristmill, both built by James Van Horn and his partners. By early 1812 the first tavern of the area was built on the west side of Eighteen Mile Creek, a popular place for staff of the mills and those passing through the area. The mills were located on lands south of Kempville and locals, for lack of the land having a name, began calling the area Millville. There is also a record of the first arriving preacher to the area in 1812. Reverend Jehiel Weisner was a circuit rider with the Baptist church, and so it was nothing more than occasional visits to a few local worshippers.
The War of 1812 set the region's new growth to a crushing halt. Many of the app. 2-3 dozen families new to the area soon learned the skirmish near the Canadian border wasn't going to end quickly, and they were too close to be safe. It was a terrifying time for everyone living in the area; at any moment they could be attacked by the British- or more likely the Native Americans hired by the British to burn, murder and devastate without warning. Some families fled and never returned, while others left and hoped for a quick resolution so they could keep the land they'd worked hard to attain. A few families remained, and some of their fathers and sons became soldiers in the war. Many of the families who stayed created hidden shelters deep in the woods or thickets, to protect their food and other supplies if the British attacked.
The War finally reached Kempville and the surrounding area, largely due to the actions of James Van Horn and his staff. They had been supplying Fort Niagara with flour from their gristmill. The British troops were halting supply lines and attacking military targets, and so in December 1813 the Van Horn mills were targeted. A small number of British troops, supported by a healthy army of local natives, marched north towards Kempville. Their orders were to burn every family home and business west of Eighteen Mile Creek, which they accomplished very quickly. Once they reached Kempville at the mouth of Eighteen Mile Creek, they burned every house and business they saw, with one exception: the family home of Burgoyne Kemp, the little hamlet's founder. A small squad of British soldiers and their commanding officer took pity on Burgoyne's ailing mother, and Burgoyne hosted them all on his property with meals and places to stay the night. There are stories of other locals saving some possessions and property by bribing soldiers with food and alcohol.
Only a few families lived east of the creek, and most were all spared from the orders. The Van Horn's mills were burned- although the Van Horn's home was spared and apparently they were permitted to save some flour and other foods from the mill before the burning. It was widely assumed the soldiers were bribed with food, drink, and shelter for the night. Up until this time most families or businesses sat on the west side of the creek, but following the attacks the east became more favored for homes and businesses. Jacob Albright's saw mill was also burned by the British in 1813 but he quickly rebuilt it.
One of the biggest difficulties for the early settlers were decent roads, which were largely non-existent unless the locals built them on their property or worked with neighbors to create longer ones (one of the earliest was Coomer Road, carved out by Benjamin Coomer along his property before his death in 1817). The best options for finding clear paths however, were ancient indigenous trails, a few well-known ones being along Lake Ontario (Lake Rd.) and Eighteen Mile Creek (East Creek Road; later Lockport-Olcott Rd.; this was not as well-traveled and so was better carved out in 1809). The most popular trail however, was the oldest in the area- the long ago edge of Lake Ontario before the waters receded. Now known as Ridge Road (Rte. 104), this old delta was the most commonly used route for new pioneers to reach the area, or to continue west or south to Buffalo or Niagara Falls. The path was rough and often through dense forest, but it was slightly higher land which kept it dry consistently. Except for one point, south of Kempville, which was swampy, similar to the rest of the nearby land. The swamp was a few miles long, before it returned to the higher, dry trail. It was up to travelers to continue through the mud and muck, or find a way around it. The War of 1812 changed this land's destiny, as the U.S. Military recognized the need for a straight path. They built a log (or corduroy) road straight through the swamp, allowing a direct trail, albeit still terribly bumpy and quite wet. Now the infantry could quickly move back and forth from Fort Niagara. Shortly after the trail was completed, Thomas Barber purchased land at the southwest corner of the intersection of Ridge Road and East Creek Road. He built a log tavern, seeing an opportunity for weary travelers and soldiers to rest before continuing their journey. His vision quickly proved correct and was profitable.
Following the war, families from all over bought every available plots of local land very quickly, many recorded to be Quakers. You may even recognize some of these family surnames: Coomer, Tompkins, Halstead, Buck, McClew, Patterson, Cooper, Meade, Hess, Newman, Hays, Pease, Phillips and Wright. Many families helped build smaller roads that would connect their properties to main roads. Between road construction and the ownership of large plots of land, most of the town's founding families are now honored as road and street names in the town. Other known early families include those of Shubal Merritt, Benjamin Halstead, O.C. Bordwell, Phineas H. Corwin, David Wisner, Amos Strong and Zebedee Stout.
A Community Emerges
As more families were setting up homes and businesses south of the Millville area, locals decided it was time to designate their part of tue region with an official name. This would help others find where they lived, create a sense of pride for the area, and most importantly more easily receive mail. The Honorable George R. Davis, who owned one of the largest estates in the area, chose the name Charlotte, after his daughter. The village name quickly evolved to Charlotteville. Millville, the land between Kempville and Charlotteville, also had a few other names by now, including Van Horn Mills and Hornsville, since a number of this area's mills and businesses were owned or supported by the Van Horn family, and many nearby families worked for them.
Charlotteville saw many new stores open in its first decade, including the first school, blacksmith shop and trading post. They were all located at one road intersection, which quickly became the center of activity in Charlotteville, prompting all other incoming businesses to set up in this area as well. For this reason, the intersection became part of the town's original (and still used) Main Street. Nearby was Wisner's Carriage Works, owned by the well-liked James Wisner.
Alexander Butterfield moved here in 1814, and served as the village's first physician. Mr. Butterfield would eventually wear many 'hats,' including that of first postmaster (1820) and later one of the first commissioners of the common schools. 1816 saw the arrival of another circuit rider, Methodist Elder Mairs. He came to help with the newly organized Methodist Episcopal Church (1815).
The first official cemetery came in 1817, located west of Kempville. Prior to this, families often buried their dead on family estates or lay them to rest in a graveyard along the west bank of Keg Creek. But cemeteries were fast becoming the popular option around the world because graveyards took up valuable property space and often carried disease. Health issues were already a major concern to people living in Northern Niagara County, many of whom were riddled with lung problems due to the heavy amount of marshland covering northern Niagara County. It became important to start new, centralized places to bury the dead that were further outside town borders- occasionally even exhuming bodies and moving them to a cemetery. While Newfane now has a few cemeteries in its borders, the first cemetery is still in use today, and is located along Lake Road.
Meanwhile up along Ridge Road, Alva Buck saw the wonderful success of Thomas Barber's Tavern, and chose to build his own about 1817, directly across from Barbers. Unfortunately, Thomas Barber died in 1818, leaving his wife to continue on with the business, until the tavern caught fire in 1820 and killed two of their daughters. The family did not rebuild. Only Alva Buck's tavern remained, and in 1822 he leased it to Solomon Wright, who purchased it completely by 1830. Under Solomon Wright, the tavern was expanded and remodeled into a tavern and hotel, making it a very popular destination. Mr. Wright's impact in this region is why the 'swampy' trail intersection become known as Wrightsville. Wright also held land here for his private estate. In 1826 he successfully petitioned the U.S. Government into making his home the hamlet's first local post office, where he remained postmaster for 45 years.
Brothers Peter and James Hess carved out Hess Road in 1821, with major support from the highway commissioners. Being another road that connected Ridge Road to Lake Road, it greatly helped trade and travel within the easternmost part of Newfane. For this reason, the part of Hess Road where the brothers lived, along with the surrounding area, became known as Hess Road Station. Hess Road Station was also later known by some as 'Swigertsville', after the family owned general store located in the community, but this name was never official.
Arthur Patterson, an early settler of Charlotteville, built The Patterson Hotel in early 1823. It was built on the northernmost end of Main Street at the time, on its west side. The hotel had a number of carriage houses, making it an ideal stop for travelers and their horses. Behind the hotel there was a popular ice-cold fresh water spring, where plenty of locals and visitors would stop for a drink and to refill their canteens.
Mr. Patterson was also one of the first local businessmen who saw the need to fully establish Charlotteville as an official village. Otis Hathaway, of Lockport, purchased various pieces of property and helped Patterson to lay out a geographical plan for their new village. This included breaking Hathaway's property into smaller plots of land around a better structured system of roads, which would help people easily enter and exit the village. Mr. Patterson helped clear all this land and establish the roads at the same time he was building his hotel. Hathaway then sold the small plots of land to families, further growing Charlotteville. Much of their plan remains visible in Newfane today, thanks to Hathaway and Patterson's planning and insight.
Forming a Town
By late 1823, local businessmen and politicians recognized a need for their community to become an official town. With the growing population it was important to establish local rules and laws, establish taxes to pay for community used items such as roads and schools. This was also a way to gain financial support from the state and federal government to help fund local projects and continue growing the region.
One of the businessmen, James Van Horn offered his newly built two-story brick home (the first of its kind in the area), as a meeting place. And so, on April 6, 1824 the first town meeting was held. The gentleman worked together, with maps, and carved out their new community in part from lands currently considered by locals as pieces of early Wilson, Hartland and Somerset. Part of the decision to include all the different hamlets were because the gentlemen at the meeting lived in them and wanted their lands included in the new town. In the end, they carved out a rectangular map of the town's borders, extending from the southern shore of Lake Ontario south for app. 6 miles, and east to west app. 8 ½ miles- encompassing app. 50 square miles of land.
Their new town would encompass the villages of Charlotteville and Kempville, and a majority of three hamlets. The first was the small hamlet of Millville which stood between the villages, and the second was the northern half of Wrightsville which stretched from Charlotteville to Ridge Road (the southern half was private property owned by people who were more connected to the burgeoning village to the south; a decade later they would be part of the new Town of Lockport). The third was Hess Road Station, the tiniest of the hamlets and located east of Kempville and Millville.
James Van Horn's wife Abigail was also present at the meeting, as it was being held in her home. She requested the town carry the name of Newfane, likely because it was identical to a town she had known in Vermont (named for Earl John Fane). The name was approved, and New-Fane became an official township. The hamlet of 'Millville' was renamed Newfane Station, and continued to be the land connecting the larger villages of Kempville and Charlottesville (the name had slightly altered over the years between Charlotteville and Charlottesville, and now was primarily called Charlottesville).
Next, the group selected officers to oversee the town. Based on meeting records, the following officers were elected: Supervisor James Wisner, Town Clerk Jonathan Coomer, Assessors Cornelius Van Horn, Solomon C. Wright and Jacob Albright, Collector John B. McKnight, Poormasters Ezra Barnes and Zebulon Coates, Commissioners of Highways Robert McKnight, Archibald McDonald and Jacob Albright, Commissioners of Common Schools Alexander Butterfield, John P. Warner and Archibald McDonald, School Inspectors Simon Newcomb Jr, Peter Hess and Herman Pratt, Constables John McKnight and George Bennett.
The Van Horn's accepted the responsibility of maintaining a place in their home for town records and future meetings, making their home the unofficial first town hall. It remained that way for a number of years, until they were relocated to a storefront on Main Street in Charlottesville.
One of the earliest records of town business came only a few weeks after the township's creation. On April 19, 1824 the township was divided into eight school districts, to better divide the children evenly between the schools while also instituting an early standard practice of educating. By 1830 there were 370 children taught in the common schools at a cost of $427.10. Early school tuition was ¼ cord of wood piled at the door or its equivalent in cash.
An 1825 record showed the entire town and hamlets had a population of 919.
A Booming Economy
1825 saw the opening of the Erie Canal, a grand project that helped speed up shipments and improve the New York and U.S. economy. The surplus waters of the canal discharged into Lake Ontario by way of Eighteen Mile Creek. This was great news for local mills, which saw a great surge of energy coming through the expanded rushing waters. Even more mills began popping up between Ridge Road and Kempville, helping Charlottesville's economy greatly. Local mills included William Collins' Flour Grist Mill, Tompkins Grist Mill, and the Van Horns' Flour Grist Mill and Woolen Mill. The Van Horn's businesses also included a brickyard, tavern, general store and later a clothing outlet. A lumber mill came later for the Newfane Basket Manufacturing Company. Some of the mills also had their own dams to harness the water power, and towards the end of the 19th century used water wheels connected to electric generators.
By now the town's population was growing annually, in large part due to growing need for employees at the mills. The arriving families also brought their various religious beliefs, and the need for places of worship. The first major congregation to form was the First Baptist Church, which organized on May 27, 1829 in Charlottesville. Elder Jehiel Weisner was their first pastor. The parishioners' first meetings were held in between private homes and a school house. In 1835 the public services were transferred to Olcott, which caused a temporary division in the society; the factions were reunited in 1839. The present cobblestone church was erected in 1842, and remains in good condition and use today.
The local Methodist Episcopal congregation also was growing, and was officially organized on April 22, 1844. Early services and classes were held in a local log-made schoolhouse, with James Mathews leading them. Several circuit riders also passed through and preached whenever they could. Their cobblestone church was built in 1844, and records state it was 40x50 in size, cost $2,000 and could seat 300 people. The land was donated by Charlottesville's naming founder, George R. Davis.
In 1835, a veteran of the War of 1812 arrived in Wrightsville. His name was Col. John Henning, and he purchased a 270 acre farm which was split in half by Ridge Road. The Hennings became the hamlet's most prominent family after the Wrights, and Col. Henning was known as the "unofficial mayor". In 1839 the government officially changed the hamlet from Wrightsville to Wright's Corners. The reason why has been lost with time, although one guess is it was changed on purpose (or clerical mistake) due to its neighbor hamlet's name of Warrens Corners.
An early post office in town was built on Coomer Road, and opened on Feb. 3, 1836. The post office was in service for one hundred years before being torn down in the 1930's.
During the 1850's Daniel Van Horn, eldest son of pioneer James, discovered that power could be secured at a lower point along Eighteen Mile Creek than previously thought. He purchased the land and built a very successful sawmill on the site. Besides mills, farms were also in great abundance, the main crop being wheat. That is until about 1850, when a small insect arrived in great numbers: the Midge. These small, biting flies devoured wheat fields all over the region, causing many farmers to switch to different crops that the bugs would not infest. Fruit orchards became the easy choice as a large variety of fruits grow well in the local climate. The two most popular fruits to grow were apples and peaches, followed by cherries, pears, quinces and plums. Grapes were grown at farms surrounding the town, but rarely in Newfane as the soil and temperatures were not well suited for grapevines.
Farmers had great success with their orchards in the hamlet of Hess Road Station. By the mid 1850's a large amount of apples and other tree fruits were stored and shipped from the area. Hess Road Station also was the home of a coal office and the Shaffer family's feed store. The Shaffer's store had a large room upstairs which they considered a hall. It was used often for public gatherings, including dances and political speeches. At times they also created a makeshift skating rink.
In 1859 another congregation formed in the area: St. Bridget's Roman Catholic Church. John Malloy donated some of his land on Ewings Road for their new church, and the first priest was Father Hugh Mulholland. Presbyterians also were growing in numbers at this time, often holding services in a school house. In 1872 the Henning Family in Wrights Corners donated a piece of their land for the first local Presbyterian Church, with Reverend E.P. Marvin their first preacher.
Meanwhile the town's school districts were slowly expanding, and had reach 16 by 1860. Within the next few decades it became 18. Other religious factions were also now in town, including Wesleyan Methodists and the First Universalist church. St. Bridget's Roman Catholic Church, on the Ewing road in the southwest part of the town, was organized in June, 1859, under direction of Rev. Thomas Shehan.
Daniel Van Horn retired in 1863 and sold his sawmill property to Francis Niles. Niles, along with partner Van Ostrance, turned it into a woolen mill known as Charlotte Woolen Mills. They operated the business until 1866, when they were succeeded by H. B. Gulick. A post office was built in 1863 as well, on Coomer Road, with Theodore M. Titus as its postmaster.
Around this time a natural salt lick was discovered 100 yards north of the Ide Road Bridge, a popular place to find deer and other animals. It lasted until around 1915. One of the busiest stores by now was the General Store on Main Street in Charlottesville. Here you could purchase groceries, hardware, dry goods, shoes, clothing, confections, tobacco and medicines. It was also the location for the town's main Post Office and the primary stop for the stage couch, which arrived and departed only once per day.
Following the civil war, the town of Newfane voted to become a 'dry' town, banning the selling or serving of alcohol. This law remained in effect for many decades. Among the hardest hit was The Patterson Hotel, by this time a mainstay in Newfane for over 40 years. The Patterson was well known for good lodging and serving popular food and drink. Without liquor the hotel couldn't maintain a profit, and soon after was turned into residential quarters (the building was torn down in 1906 and its parts recycled for use within other buildings).
Wright's Corners, now simply Wrights Corners, had become a popular destination. The tiny community had hotels and taverns, and stores which kept supplies and necessary travel services, including tending to horses and carriage repairs. For travelers, it was an ideal resting point along Ridge Road or those following Eighteen Mile Creek. For locals, the stores, schools and later churches were important. For travelers and locals alike? Wrights Corners had alcohol.
Wrights Corners was now split in half; the northern part belonged to "dry" Newfane. The southern-half was part of Lockport, a "wet" town. Since Wrights Corners sat in both, the laws were loosened here. The taverns were always busy and quite successful.
Unfortunately, in 1861 Solomon Wright's hotel caught fire and burned down. It was never rebuilt, and Solomon passed away in 1872. Col. Henning had passed away two years prior, and his sister Janette, also well known in the community, ran their tavern until her death in 1877. The Henning Farm passed onto nephew John Henning II, who resided there with his family until his own death in 1893. A road on the property, once called Henning Road, is now Wheeler Road. These losses eventually stalled growth in Wrights Corners, as most incoming businesses preferred to establish near more populated areas such as Main Street in Newfane, Olcott, or Lockport.
Traveling Dentistry
For nearly a half century, the town of Newfane had no dentists. Residents would rely on their family doctor to handle any mouth or tooth issues. This is likely why in 1887 a traveling "dentist" visited the town briefly, and had a successful visit. He stood on a platform across from the General Store, selling his cure-all, "Quagwa", at $1 per bottle (we are not sure what the contents were). Later he stayed at a nearby hotel and for 50 cents would remove teeth 'painlessly' – possibly using the first anesthetics brought to town.
Life in a Small Town
By 1874 railroads had become a major form of nearby transportation for both passengers and supplies, largely because they were in better shape than many of the town, county, and state roads. Local stations soon included Lockport, Hess Road (opened in 1876), Coomer and Newfane. Passenger trains passed through the main stations six times daily, while freight trains arrived at all of them around twenty times per week.
As the town kept growing, so did the need for post offices. Newfane Station's post office was established in August, 1876, with J. H. Mandeville, postmaster. Hess Road Station's first post office opened, and F. H. Ferguson was one of the earliest postmasters.
Local churches were flourishing, and new factions were popping up all the time. The Presbyterian church of Wright's Corners was organized May 12, 1872, with thirty members, and had a permanent building within a year. The Roman Catholic Church at Olcott was built about 1884. The Free Methodist church was erected about 1886, a society having been organized a few years before.
By 1878 there were 18 school districts in Newfane, with 1,095 children between 5 and 21 years old, educated at a cost of $2,484.26. Most of the rural schools had one teacher who taught all eight grades and were paid six dollars a week.
Just as it was across the nation, during the late 1800's Newfane was a major center for political events and patriotic celebrations. Before Election Day each year, young trees were cut down and joined to form a pole around 100 feet high. An American flag was flown on top with the Republican banner beneath it. This was because the community was largely Republican; during this time one of the larger political organizations was the Republican Marching Club. Very often events would have marching demonstrations and live music, occasionally using the nearby Town of Wilson Band. Of course the best entertainment came from the attendees; speeches, lectures and arguments were commonplace, and occasionally there were physical fights between Republicans and Democrats.
The Winter Flood of 1883
On Friday, Feb. 17, 1883, an ice jam on Eighteen Mile Creek broke apart, thanks to slightly warmer weather and overnight rainfall. At app. 4am the jam released a massive flood of water, the ice cracking and rushing water both so loud that nearby residents were awakened. The water rose over 15 feet in only a few minutes, and quickly took out the iron bridge at Charlotte, along with destroying Van Horn's mill near Burt [Newfane Station at the time] (the Van Horns' would quickly rebuild it). The iron highway bridge had been built for $1,200 in 1879, and although it was new a few bystanders said the bridge fell apart as though it were nothing more than cobweb. As the water and ice continued sweeping north, it collapsed the Iron railroad bridge as well, which was built in 1877 at a cost of $35-45,000. This bridge, which was 370 feet long and 90 feet high was built by the Lake Ontario RR company and considered one of the finest built at that time; when it fell it was newly acquired by the RW&O railway company. A train was headed toward the bridge and could have been lost if it had been a few minutes faster; fortunately it was able to double back after hearing the bridge was out. Somehow the swing bridge in Olcott was damaged but survived, possibly only because it was miles down the creek and gave the water some time to level off. A few other mills were damaged but survived, although flooded with over 8 feet of fast moving water – including William Collin's grist mill and Shaw, Vincent & Company. In the end only two bridges from Newfane to Olcott remained standing, including the lower highway bridge at Charlotte which was only 2 years old. The water also flooded south, causing flooding as far away as Pendleton. By Feb. 19, two days later, the weekend freeze up had ended and the danger of more flooding had passed.
Newfane Basket Manufacturing Company was founded on April 15, 1887. It opened on McKee Street and was profitable early on, becoming known as one of the bigger businesses in town. The business soon expanded to include lumber and millwork, and eventually it became the Newfane Lumber & Manufacturing Company.
Francis Niles and his partner Mr. Van Ostrand now decided to expand their business, Charlotte Woolen Mills, and so they purchased their first generator. This was the first electricity in town, and it helped grow the mill production greatly. After a time they sold the business for a great profit, and the mill would be exchanged between hands a few times over the years. By 1891 it was purchased by the brand new Lockport Felt Company. The location was perfect for a large factory, due to the property's large space of flat land along the edge of Eighteen Mile Creek. At one time they employed forty-five people, who produced felts for use in paper and pulp mills. The quality of the product was so amazing that it was sold all over the world at very high prices.
Lockport Felt Company quickly upgraded their mill's dam and generator, which became so powerful they allowed the community to take advantage of electricity for the first time. Charlottesville contained most of the new electric lines, since it was where the mill was located. The Town of Newfane established The Newfane Electric Company, which was responsible for the maintenance and distribution of the electricity throughout the homes, businesses and street lights. The first electric lighted home belonged to Joseph Robinson, then Superintendent of the felt company. The first business after the mill was the barber shop and pool room, owned by Howard Wilbur. The first electric contractors were Glen Corwin and Joseph Tyler.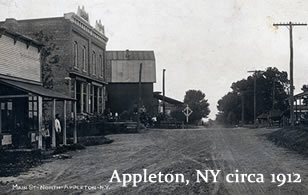 Newfane gained popularity around this time for the wonderful local fruits, often exported to other parts of the country and Europe. Local farms were very busy, and so one resident invented a special fruit grader to help sort their large amounts of crops. This invention helped farmers beyond Western New York as well. The popularity of the fruit orchards around Hess Road Station helped inspire those living in the hamlet to officially change the name to Appleton in 1895, which is the name registered by the U.S. Post Office that was new in town. Appleton now had a post office, along with John G. Swigert's Swigert Hardware (a general store), Ed Howard's bicycle shop & pool room, Frederick Ferguson's Ferguson Coal and Grain Elevator. Later came William G. Hall's store, W. G. Hall, General Merchandise, and businesses owned by Ira Dickson, and Henry Betzler. You can see the sign from Hall's store on the General Store at the Newfane Historical Society's Country Village.
By 1894 the last of the mills left in the area ran by the Van Horn family were shut down. This was largely due to practicality- inherited through the relatives of James Van Horn Jr., there was little interest or ability from the family to keep them open, and they were no longer modernized or competitive enough to be purchased by anyone else. An era had ended (Burt Van Horn's family maintained huge farm operations in Newfane for another decade).
Town Expansion for a New Century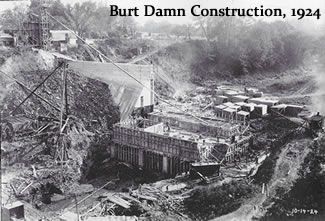 By 1900 the electric service had been extended to the hamlet of Newfane Station and the village of Olcott. The demand for electricity had become more than the mill's dam could supply. Within a year construction would begin on a new, large dam in Newfane Station. The project was spearheaded and funded by the newly created Lockport and Newfane Power and Water Supply Company, merged from Lockport and Newfane's electric companies. It took years to secure the land, rights and money.
During this time, the Town of Newfane underwent some very large and important changes. As the majority of the town's activity, buildings and Main Street stood in Charlottesville, the decision came by community leaders to once again re-name the town's districts. In 1901 Charlottesville was renamed as the township or village of Newfane, and the hamlet that carried the same name would be changed from Newfane Station to Burt. This was in honor of one of the most accomplished citizens to come from the hamlet, the Honorable Burt Van Horn, who among his titles included both U.S. Congressman and Assemblyman. These name changes caused a variety of businesses to change their names to follow suit; one example is the Newfane Trolley Station which became known by its more remembered name: Burt Station [for more on the electric trolley which passed through Burt Station, see Olcott history].
Once the new 60 foot electric dam was completed, it was named the Burt Dam since it was located in the hamlet of Burt. Now the town had a major means for supplying the entire community with electricity. On the edges of town, the Middleport Gas and Electric Company also brought in power from Niagara Falls, one of the largest electric power sources in the world, to help reach the Town of Newfane's far south and eastern portions.
About 1900, the Bell Telephone Company arrived and installed the town's first telephone switchboard. It stood in Newfane on the second floor of the Collins Store near the Lockport Felt Company, and it had two main lines with ten subscribers per line. All the subscribers were a mix of the wealthier families and those who were fortunate enough to live near the store. An operator was only hired for daytime hours, and so in the evening the two lines became one line for all twenty phones. This was common in those days, a slight burden for the families who were interrupted by a ring not meant for them. About 1906 the Home Telephone Company chose to install their own switchboard above Whitings' family barn, which was located on the south-east corner of Maple Street. This greatly expanded the number of telephones in the town. Bell now decided to build their own building on the Collins Store property, further expanding their company's reach in the community. Unfortunately Bell's building wasn't open very long before burning in a fire, and the owners chose to rebuild in another part of town (in 1948 the burned building was finally removed and the property became the parking lot for the Lockport Felt Company).
The Cornet Band of Newfane also started around this time, enjoying wide recognition in their day. They performed for decades and won many contests they entered. The leader was Irving Halstead, brother of Oliver of Lockport. Outstanding musicians among them were offered positions elsewhere, but no records remain with details. Unfortunately, very little facts and files remain of the band's work and time, and no audio recordings were ever known to be made during performances.
By 1905, the 275 inhabitants of the hamlet of Newfane depended upon the manpower and equipment of the Fire Brigade at the Lockport Felt Company to act quickly in case of emergency. The shrill steam siren called the firefighters to the Mill for their pumping apparatus. The pump was available whenever needed and they used water piped from Eighteen Mile Creek. The men gathered the horses, loaded the wagons and hastened up the hill to stamp out whatever fire they were called to. 1905 also saw the opening of the first brick school on Main Street.
A 'Riot' in Burt
An unusual story from Newfane's past happened on March 23, 1905, and was noted widely in nearby newspapers as a riot. At 10am, inside a hotel in Burt, owned by the Carrier family. Apparently Willis Carrier, owner of the hotel, was in the barroom when he was confronted by a man who was attempting to apologize for a disagreement he had with Willis at some previous point in time. Apparently Willis dismissed the man's conversation, and promptly struck the man in the head with a club. The man had been in the hotel with about 15 other men, ages 19-39, and they all were angered by Willis' actions (large amounts of alcohol played a role). The crowd of men went outside the bar and hotel and began throwing huge rocks at the building and through the windows, destroying large amounts of the property. During the assault of rocks (some as big as human heads), the Carrier family, quickly fled the building. Willis was struck in the face by a rock while trying to gather his children and get them to safety, but he was fortunately not injured too severely. A few hotel guests (traveling salesmen) were trapped in the building, and watched windows breaking and stones land on the beds and all around them. This assault continued for two hours, until finally the Lockport sheriff and his deputies arrived by railcar and caught the four men who remained pelting rocks. They rounded up ten more men the next day.
Businesses Come & Go
Often a town grows and shrinks due to businesses opening and closing their doors, which often effects job growth and residential counts. Some well-known businesses in Newfane for a time included a lumber company, which sat next to Collins Mill & Store, the Newfane Basket Manufacturing Company, and the family-owned Ginty's Stock Farm, known across the county for their sturdy and quality horses, essential for pulling carriages and wagons.
One village building with major historical interest began as William Collins Store (pictured above), which was near the corner where the traffic light is today. Soon after the back of the building was turned into Mason/ Dutton Hall, which was used for social gatherings of various kinds; it was the meeting place for rehearsals and concerts by the Newfane Cornet Band, a singing school taught by DeLysle Brookins, home talent plays directed by Billy Slate and more. The Grand Army of the Republic (G.A.R.) met here for a time- a large group in that era. The hall's use dwindled with time, until eventually it became the warehouse for the Collins Store, and later became the Butterfield Store.
When Butterfield Store closed, the building was purchased by Florence and Walter Kruger, and transformed into the town's first silent movie house, The Arcade Theatre. During this era, silent movie 'nickelodeons' were nothing like they are today. Charging only a nickel for admission, they were a storefront with a dozen or so wooden chairs and a piano which played the music in sync with silent movies, often repeating non-stop all day allowing guests to come and depart on their own schedule.
Unfortunately The Arcade only lasted a few years, unable to keep up with the technological advances and costs required to be involved in the movie industry. The building next saw life as the repair shop for the neighboring Thompson's garage. Finally the building was up for sale one last time, and it was purchased by the American Legion who tore it down, using the lumber for their new home on Maple Street. Some locals liked to believe the building found life once again as a meeting place. The property where the building stood would later become the Kendall Gas Station, and later still Newfane Auto Supply and Service Station.
The first libraries began popping up now as well. Frank Shaw's Meat Market is the widely believed to have hosted the first library, which began by a donation of 18 books by Mrs. Fred Shelley. Other locations were above Stern's Barber Shop, and Smith Store, located on the southwest corner of Main Street's intersection.
In 1906 the Newfane Fireman's Club was established, as the community recognized the growing need for an improved plan for fighting fires. The community could not continue burdening the Lockport Felt Company's Fire Brigade, which had limited resources and staffing. By 1911 the club joined together with Charles Miller, establishing the Miller Hose Fire Company. Quickly they acquired two pieces of motorized equipment including a pump, the latest technology available to fight fires. The town installed their water main system beginning in 1912, and a water tower was erected with a capacity of 125,000 gallons fed from a nearby spring, both which vastly improved the firefighter's efforts to save lives and property.
As Newfane's economy continued to grow through successful local agriculture, farmers needed ways to store massive amounts of produce. In 1910 you could visit a number of cold storages, including Van Horn Cold Storage, Kramp Cold Storage, and the Burt Cold Storage, Inc. Plant. Farmers would bring massive amounts of produce to the buildings by wagon and later truck. One example on record is tomatoes, owned by "Apple John" Santarsiero and Max Pettit. The gentlemen were well known for storing their tomatoes with "tender loving care", and each fruit was individually wrapped and placed in special crates to sell to consumers.
Local produce was also big business for more than farmers and cold storage. Barrels were created and used to ship apples to England before and after World War I. The Burt Evaporator was a business which dried apples, and the Savage Feed Mill was big business in Burt. The hamlet of Burt also had two coal companies, a post office, Daniel O'Grady's general store, Hotel Burt, and Daigler Blacksmith Shop. The blacksmith shop was popular for replacing horse shoes, and it also had a machine shop and a woodworking shop. They produced ladders, including step-ladders and ones for apple picking, truck bodies and hay racks.
For a very brief time Newfane also boasted a newspaper: The Newfane Gazette. It began in 1911 by Mr. Goodell who was both editor and publisher. Mr. Goodell was known for carrying an alarm clock with him everywhere to make sure he would make appointments as he couldn't afford a watch. Unfortunately his paper would never achieve great profits and shut down relatively quickly.
This same year, on January 11, 1911, a handful of interested citizens decided Newfane needed an official library. They elected board members to run it, and began construction not long after thanks to donations. The first Newfane Public Library was located slightly off of Main Street, not far from its current location today.
Some other businesses in Newfane in the early part of the 20th century included a new barbershop, Charlie Henderson's Cider Mill, and a number of gas stations and garages as automobiles became a must-have item for every family in America. David Dairy also opened, which had a milk wagon and was largely in the milk business, but their shop also offered ice cream, milkshakes and various sweet treats.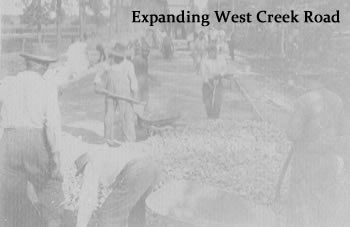 As Newfane grew in size, and Olcott Beach continued to grow in popularity with tourists, the time came for the town to upgrade roads. The project of paving main roads and expanding others largely happened from 1912-1914, and a few of the major routes added the town's first sidewalks.

In 1913 a massive fire destroyed the Newfane Lumber & Manufacturing Company, which was seen by many locals and talked about for decades after. Fortunately the company stayed in business, starting fresh by relocating to First Street.

Mr. Charles Raymond, former secretary-treasurer for the Lockport Felt Co., sponsored a bicycle path that extended between Lockport and Olcott, parts of which were never completed. Through the town of Newfane, it was a cinder path 3 feet wide. A license was necessary in order to ride on the path, and Newfane's constable enforced the law.
Community Growth
Although most records are lost, in the last 200 years the town has seen its share of a wide variety of clubs, fraternities, welfare, social groups and secret organizations based on a large variety of interests. One of the larger ones was the Pioneer Association (see The History of Olcott). The First Loyal Temperance Legion in Newfane was organized by Mrs. Loretta Brotherton who invited children to her home on Ketchum Ave. around 1914. Another local group was the Women's Christian Temperance Union, as Newfane was "dry" until the 1950's. Other groups included the Niagara County Agriculture Society, Miller Hose Band, Masons, National Grange, 4H, Boy Scouts and Girl Scouts, along with plenty of musical acts and athletic clubs.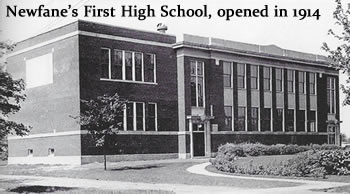 For local children, education in Newfane usually began in a nearby one-room schoolhouse. Between 1845 and 1913 there were 17 school building scattered about the area, and only two served children from elementary school through eighth grade. Any students wishing to continue past eighth grade and earn a diploma were required to finish school in Lockport. Grades 9 & 10 were added by 1914, and were located in Newfane's first high school, located on West. Avenue.
The State Bank of Newfane opened in 1917 on Main Street, and was in business until 1955. Its building still stands, unused ever since, on the west side of Main Street.
In 1924 engineers built a huge dam that supplied electricity to the town of Newfane and surrounding area. Work began on July 25, 1924 and took a year to finish. The dam still provides power today, only it's one of many power sources now used.
Following the implementation of electricity, along with improvements in modern technology, the need for mills dwindled. Olcott's Marina also quieted as shipping vessels were replaced with planes and shipping trucks. Eighteen Mile Creek was no longer an epicenter for industry or transportation. Today the creek is largely used for leisure, such as fishing and boating. The environment of the water and surrounding grounds have improved with this change, as chemicals, dyes and more often polluted the water from the businesses connected to it.
Up until now, local students could only achieve a 10th grade education. Finally, in 1924, the town's school board applied to the state for a four year rating so they could have a full four year curriculum and graduate students. That same year the school was given permission by the state to add the final two grades, although for a time they required tuition.
In 1927 the first town hall was built on South Main Street, which would eventually become the VFW Hall when the town hall offices were relocated across from Newfane Elementary School. Clifford Bentley also arrived in 1927, as the new school instructor of science and sports coach. He was hired by the local school committee after discovering him in Rushford, NY. They saw his techniques and manner as vital for the growth of the town schools. By 1932 he became principal of Newfane High School (located on West Ave.).
The first Newfane school yearbook was published by the Class of 1936, celebrating the centennial year of the public school system in the town. Newfane schools centralized in 1941, and by 1942 Principal Clifford Bentley already began the push for a larger, more modern high school. Unfortunately World War II and the limited school budget were massive hurdles that put his plans on hold. Finally in 1949, construction of a new, much larger, central high school began on Transit Road. Wrights Corners Elementary school was built in 1955, Newfane Elementary in 1958, and Olcott Elementary in 1960. Now, with four large schools in town, all local one room schoolhouses were obsolete. The old high school building on West Ave. would eventually become Grace Bible Church, as it remains today.
Newfane Lumber & Manufacturing Company relocated to Lockport in 1940, closer to more of their business dealings. Newfane Lumber has remained there and in business ever since, and to our town's benefit has kept their name and thus the ties to our community.
Restaurants have always been big business in Newfane as well. Green Acres Restaurant was in business from 1949-59, located inside what is now the Van Horn Mansion along Lockport-Olcott Rd. This was a popular dining destination that hosted countless weddings. Although open for only a decade, it made such a lasting impression on locals even today, that it's easy to believe it was in business for a much longer time. Another restaurant that opened in the 1960's was Castle's, known for ice cream and diner foods. Their ice cream was a popular attraction that remained open for over 3 decades, and was succeeded (in popularity) for the following 3 decades by Baehr's Ice Cream Cottage, owned by Judy and Philip Baehr and located in Appleton from the early 1990's until closing in 2016.
By the early 1950's, local residents and doctors proposed a need for a hospital in town. On June 20, 1953, Doctors Mabel Carmer, Walter Albach and John Argue held a meeting with other local businessmen to draft a proposal. It was presented at a public meeting two months later, in August 1953. After a lengthy discussion, all 300 people in attendance voted unanimously for the proposal. By September they had approved officers and the first board of directors. The hospital was built and opened in 1958 with a new medical wing added in 1968. The Intensive Care Unit followed a year later and in 1973, a medical building was erected on the hospital property. The buildings remain today, although the status of the location has currently dwindled to an urgent care center; parts of the campus are no longer in use.
The mid-1950's also gave Burt a great advantage for easier travel, when a massive bridge was built across Eighteen Mile Creek. This allowed both sections of Burt to be connected for the first time, easing traffic on the bridges in Newfane and Olcott, while offering a new 'shortcut' for residents getting to destinations across the creek.
In the late 1940's and early 1950's, Newfane saw a new movie theatre open near Main Street. It was popular among locals for the new run movies and comedy shorts- anything popular at that time. Unfortunately the business suffered from limited space, terrible land that would occasionally flood, and was never seeing strong enough sales to be sustainable. The theatre closed down in the mid-50's and remained a vacant building for well over a decade before it sold.
As the community is always changing, local schools have always followed suit. After a short life, Wrights Corners Elementary was discontinued; the building was torn down and all students were merged into Olcott and Newfane Elementary schools. Slowly, the size of the community surged, and by 1966 a third, all-new high school was built, and expanded slightly in the 1980's. The second high school became the local middle school, as it remains today. By the 1990's Olcott Elementary students merged with the middle school, and all three remaining schools, Newfane Elementary, Newfane Middle and Newfane Central High Schools all had various building upgrades and expansions (including a pool finally added to Newfane Middle, something community members had been debating since the high school's construction in the 60's). The Olcott Elementary building remains, still on Godfrey Road, seeing new life over the years in other forms of education and child services.
The town noted its 150th birthday in 1974 with an enormous Sesquicentennial celebration. It was sponsored and helped by countless local businesses, and included a newly written play titled "Legend of 18 Mile Creek," a Queen Pageant and more. The event was held from June 28 – July 6, 1974. Each day had its own theme and special events, including meals, contests, parades, games, rides, lectures, sales, socials, flea markets, displays and so much more. It was one of the largest events in Newfane from the last century, in a community that had grown to over 10,000 persons. This event helped inspire the community to pay tribute to, and help preserve, its own local history. One year later, in 1975, the Town of Newfane Historical Society was established.
------------------------------------------------------------------------------------------------------------------------------------------
Of course, Newfane's history didn't end in 1975, and even more wonderful stories and information exists about our community from the last 200 years. Thanks for reading what we have shared so far, and to learn more please speak to our local librarians, members of the Newfane Historical Society and our town historian. We may continue updating our look back at Newfane & Olcott, but don't let us keep you from learning more now!